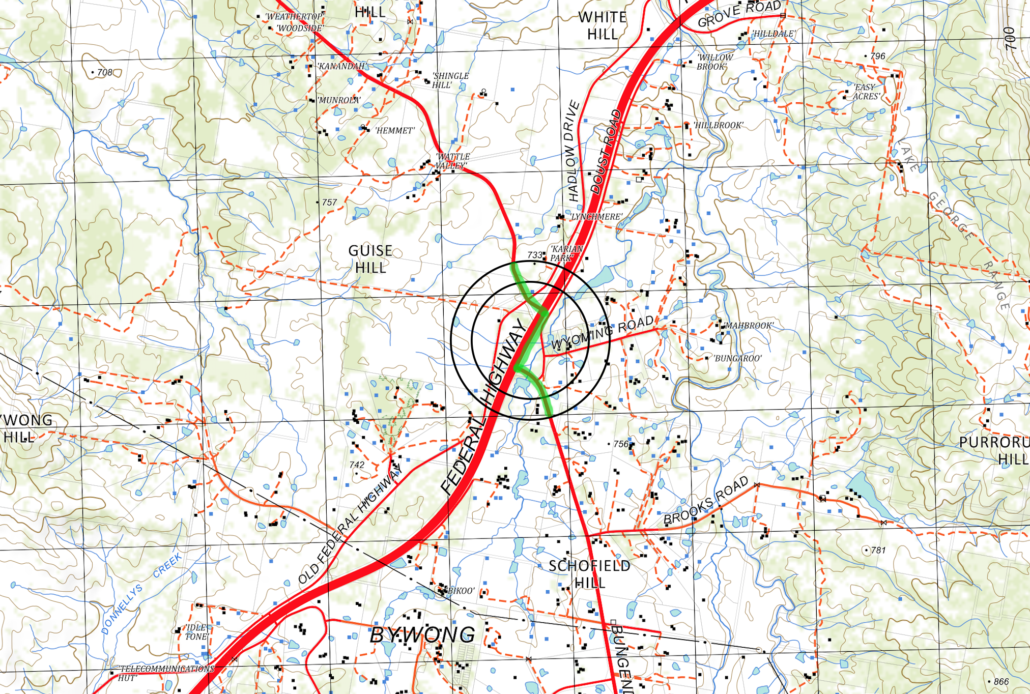 Our big reveal
There will be a highway crossing in Inward Bound this year. We wont say how many teams need to cross a highway but it is imperative that if your team needs to cross a highway, that they do so at the designated highway crossing which will be marked on the course information sheet (see example above). There will be volunteers stationed at the crossing on both sides (entry and exit) and if the adjoining road is offset (as above) then they will instruct where to cross and how to run on the highway for the section that must be travelled.
Important things to remember:
All highways are out of bounds.
Coursing along and crossing highways whether over or under the highway apart from at the designated crossings will disqualify your team.
The Course Information sheet will also show 'dummy' crossings fake crossing that are far outside the course area so as to not give away the location of the course.
Finer details:
The crossing marker (2 concentric circles) mark the location of the highway crossings.
The green shading shows the way the crossing is to be performed and the roads which must be used. In this example, it is clear that, if approaching from the south (Bungendore Road), that the team remain on the southern side of the Federal Highway until directly opposite the northern road (Shingle Hill Way(not labelled)).
http://anuinwardbound.com/wp-content/uploads/2016/07/Highway-crossing-explainer.png
1364
2024
admin
http://anuinwardbound.com/wp-content/uploads/2017/05/Logo_no-year_no-Bupa-copy-1030x555.png
admin
2016-07-29 16:58:49
2016-07-29 17:16:10
Highway Crossing in Bupa IB16